House league volleyball is perfect for players looking to improve their game and have fun playing in a non-competitive environment.
Whether you're a beginner looking to learn the fundamentals or an experienced player seeking to enhance your skills, we've got you covered. Our expert coaches are passionate about the sport and committed to helping you reach your full potential.
Weekly sessions include a short warm-up, skills component and majority of session playing games. First two weeks are evaluation and last week is a championship tournament.
Winter 2024
Junior (11-12yrs) & Senior (13-16yrs)
12 weeks
January-April
Friday evenings & Sunday mornings
Passing, hitting, serving & positioning
Pre-season evaluations
Weekly league games
Championship final
Our Friday and Sunday Volleyball programs are hosted at Mohawk College sports facility, providing an accessible location, and a new, state of the art facility. Our program is full of friendly games with a fun championship final. There are skill components at the beginning of each session, passing, spiking, serving, and more! The ages are 11yrs-16yrs.
Winter session begins mid-January and continues to the end of April.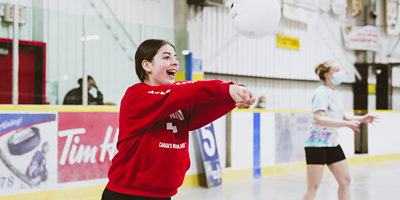 HamOnt Sports, Soccer World and Wentworth Sports Complex offer quality sports programming for youth and adults that are popular with players and families.
Our volleyball program follows the Ontario Volleyball Association development plan and is designed to empower children to enhance their skills while embracing a positive and high-energy environment. Our team consists of dedicated coaches who are carefully selected from McMaster University, Mohawk College, and talented high school athletes from the local competitive volleyball scene. We guarantee that every child participating in our program receives exceptional training and enjoys a truly memorable experience on the court.
At HamOnt Sports, we take pride in the success of our volleyball players. Many of our participants have gone on to join prestigious volleyball clubs in the area, including Mountain Volleyball Club, Mountain Athletic Club, Smash Raiders Volleyball, and Ancaster Lions Volleyball Club. We believe that our program serves as a solid foundation for aspiring athletes who are passionate about taking their volleyball skills to the next level.
Whether your child is new to volleyball or looking to build upon skills learned in the past, our programs are designed to meet their needs. Our experienced coaches provide comprehensive training that covers both fundamental techniques and advanced strategies, ensuring that each participant can thrive and reach their full potential.
Located in Hamilton, Ontario, our volleyball program serves the local community and surrounding areas, including Ancaster, Dundas, Stoney Creek, Waterdown, and Burlington. Join us at HamOnt Sports to discover the joy of volleyball, develop new skills, and become part of a thriving volleyball community!
Boost your child's volleyball journey by enrolling them in our renowned program at HamOnt Sports today. Don't miss out on this opportunity to be part of the vibrant volleyball scene in Hamilton, Ontario. Contact us now to learn more and secure your spot!